Description
MALDIVES

DELUXE PACKAGE
Per Person – ₹49,999
BOOKING LAST DATE –

 30 Nov 2023
INCLUDE
MUMBAI TO MALDIVES FLIGHT TICKET

MALDIVES TO MUMBAI FLIGHT TICKET
4 STAR HOTEL ARENA BEACH RESORT / KAANI HOTEL / VELENA BEACH
4 Day 3 Night
HOTEL VIDEO CLICK ON LINK – https://youtu.be/iXeWm6pna9M
– SPEED BOAT TRANSFER
– WELL COME DRINK ON ARRIVAL
– DAILY BREAKFAST
– DAILY DINNER
– 3 SNORKELING TOUR
– SAND BANK TOUR WITH LUNCH
– DOLPHIN VIEW
– TURTLES VIEW
– FREE UNDER WATER PHOTOGRAPHY
– FREE USE OF BEACH SUNBED
– FREE USE OF SNORKELING GEARS
– FREE USE OF INFINITY SWIMMING POOL
– FREE MINERAL WATER DAILY 2 BOTTLES
– FREE WIFI AT HOTEL
GREEN TAX EXTRA (18 USD)
NOTE – MINIMUM 2 PERSON REQUIRE
ITINERARY :
DAY 1
Traveling to Male from Mumbai – Maafushi
After your arrival at Maldives Airport, Speed Boat for onward journey 45 Min towards Maafushi. Enjoy the awesome views. Maafushi is one of the largest islands in Maldives located 27 km from Male. Once reached at Maafushi, we are welcomed by our guest house manager who was waiting there to receive us and take our luggage. As soon as we stepped in, there was an instant love I felt for the place. It was a small island with beautiful beaches and more beautiful locals! They were super friendly and helpful.
After placing our luggage in our room, we had a conversation with our hotel manager who helped us to plan our activities with a sip of fresh juice. Then we headed to take a stroll on the beach and in search for a great dinner!
We ended our first day with a super delicious Maldivian meal and some good local music.
MEAL –  DINNER
DAY 2
Exploring Maafushi
Maafushi is an idyllic place with plenty of beautiful beaches, water activities and some great food. There are a number of things that you can do at Maafushi.
Explore the beaches
There are four main beaches – Public Beach, Bikini Beach, Water Sports Beach and Coral Beach. As the name suggests, Bikini beach is the only beach here where you can roam around in skimpy swimwear (bikinis for ladies and topless for men). It is illegal to expose your skin in public on other parts of the island. Bikini Beach is usually quite crowded. There are two Public Beaches and they are usually quieter and less crowded.
MEAL – BREAKFAST AND DINNER
DAY 3
Water activities Tour
Snorkeling
Maldives is a heaven for under water marine life. Snorkeling at Turtle reef , Snorkeling at Bond reef , Snorkeling at Sandbank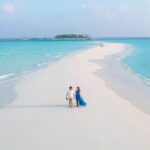 Visit the sandbank in the midst of crystalline turquoise water. Enjoy sitting in the pristine white sand while enjoying the gorgeous views of the sea.
Dolphin View
This is something that you should not miss. It will be wonderful sight to see the school of dolphins gracefully playing in the waters. Spotting of dolphins is always a matter of chance, but if you spot the dolphins, it is going to be a surreal experience.
MEAL – BREAKFAST, LUNCH AND DINNER
DAY 4
Maafushi To Male Airport
After Breakfast check out Hotel. And Process to Airport
– Speed Boat for onward journey 45 Min towards Maafushi to Hulhumale AIRPORT
MEAL – BREAKFAST
TRAVEL DATE
08DEC TO 11DEC
12JAN TO 15JAN
14JAN TO 17JAN
17JAN TO 20JAN
18JAN TO 21JAN
22JAN TO 25JAN
26JAN TO 29JAN
30JAN TO 02FEB
02FEB TO 05FEB
04FEB TO 07FEB
06FEB TO 09FEB
09FEB TO 12FEB
12FEB TO 15FEB
14FEB TO 17FEB
16FEB TO 19FEB
18FEB TO 21FEB
20FEB TO 23FEB
23FEB TO 26FEB
26FEB TO 29FEB
EXTRA ADD ON AT HOTEL
Couple Romantic Dinner by the Beach
Day visits to Resorts
Whale-shark Expeditio
Some
important

Tips for your Maldives Trip
Ferry Schedule Arena beach Hotel – https://arenahotelsmaldives.com/services/, Kani Beach Hotel – http://www.kaanibeach.com/
Cost can be greatly reduced if you do not stay in an exclusive resort. You can stay in Maafushi instead and have a day-excursion to an exclusive resort. You can save up to 500$ in this way.
Do not lose the receipt when you will be exchanging your USD to MVR. You will need it in case you want the leftover local currency be changed back to USD.
If possible, experience the signature overwater bungalow accommodation. It is pricey, but completely worth it.
Alcohol is not usually available in the local islands.
Free Visa-on-arrival is available for all nationalities.
Explore Maldives in comfortable dress and shoes with good sun-protection.